DATA becomes contents and enriches web services. In the Web2.0 world, dataincludes text, image, video, and information of geographic location and commercial products, and is generated by both sides, service providers and users. Mashup enabled by providing API (Application Programming Interface)
combines data from more than one source into web service, taking advantage of network effects, which enhances data interaction as well as further data generation.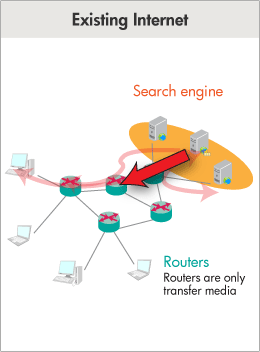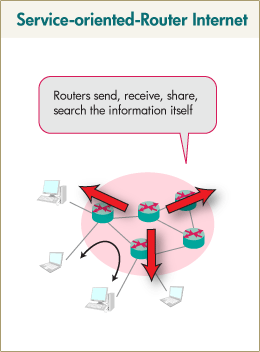 Routers are the computing systems having a great processing power, and currently take a responsibility for packet transmission and converting protocol [1-3]. Although routers have been central to the IP-based communication network, for a long time routers have not been involved aggressively in the application layer where users enjoy services. However, data acquired by routers is unique. Data provided by routers where tremendous amount of packets are transmitted can be considered to make web services richer with data based on actual traffic and with wider and deeper data coverage, while data provided by service provides is currently collected by just an end host.
Our long-term goal is to design service-friendly router that provides unique data based on actual traffic data stream to enrich services.
The proposed router snoops specified packets and stores them in the associated database. We also propose a new query language SSRQL (Semantic Switch Router Query Language) that is designed to operate the traffic data stream and manage the database.