Projects
Projects
We are working on a wide range of research fields from basic theory to applied systems, while focusing on the integrated area of multimedia and information security, that of multimedia and privacy protection. We also organize the Global Research Center for Synthetic Media (SynMedia Center) at the National Institute of Informatics, and conduct research and development across various modalities such as face, voice, body, and natural language to generate synthetic media, detect synthetic media (fake media) generated for improper purposes, ensure media reliability, and support decision-making.
JST CREST Social information technologies to counter infodemics (Dec. 2020 – Mar. 2026)  CREST FakeMedia >>>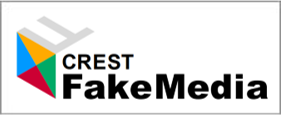 This research establishes social information technologies that support diverse communication and decision-making while appropriately dealing with the potential threats posed by fake media (FM) generated by AI. We will establish FM generation technology, FM detection technology, and FM detoxification technology for fake media (FM) with various modality classified into three types. Furthermore, by utilizing these technologies, we will establish decision-making support technologies that support various decisions on SNS.
Biometric spoofing and anti-spoofing Read More >>>
There are concerns that the diffusion of cameras, microphones, and other types of sensors in society can lead to invasions of privacy through chaotic sharing in the virtual world of face, voice, and gait obtained in the real world. In addition, advances in multimedia processing are making it possible to impersonate (spoof) just about any real-world person in the virtual world. This research establishes a platform for protecting and using multimedia information that provides biometric (anti-)spoofing and anonymizes biometric information.
Detection of fake facial videos
Generation and detection of fake reviews / fake news
Construction of a large high-quality dataset to improve the performance of fake facial image/video detection
Master faces: Wolf Attacks on Face Recognition Systems
Generating Adversarial Examples that are Resistant to Media Processing
Simultaneous face and voice conversion
Biometric identity theft prevention Read More >>>
It has been pointed out that the diffusion of high-performance cameras and microphones in society enable another person's biometric information to be acquired through remote capturing and shared in cyber space. This research establishes a technical platform for enabling control over the acquisition of personal biometric information and distribution of that information in cyber space based on that person's wishes.
BiometricJammer: Preventing fingerprint replication from camera images
PrivacyVisor: Protection against facial recognition from camera images
Gait anomymization